The Ice Soul Is the first boss of the mod.
Appearence
Edit
The Ice Soul is comprised mostly of hard to see snow particles, making him nearly invisible. Luckily, there is a life indicator over his head so you can locate his position relatively easily.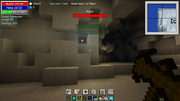 Where it´s found
Edit
The Ice Soul is at the end of the Ice Dungeon and spawns right when you get in.
Attacks directly (most common)
Explodes
​Boss Fight Tips
Edit
Potions and armor are usually unneeded for this boss, although on harder difficulties it may be useful to aquire these items. The best way to fight the Ice Soul is to attack him directly.
This boss has about 384 health
This Boss doesen´t drop any experience or Coins but drops an Ice Soul.
Other bosses
Edit
Ad blocker interference detected!
Wikia is a free-to-use site that makes money from advertising. We have a modified experience for viewers using ad blockers

Wikia is not accessible if you've made further modifications. Remove the custom ad blocker rule(s) and the page will load as expected.